The odometer has rolled over on another month, and you know what that means: time for a monthly LockQuest recap and a summons to Puzzled Pint!
Pip Pip and All That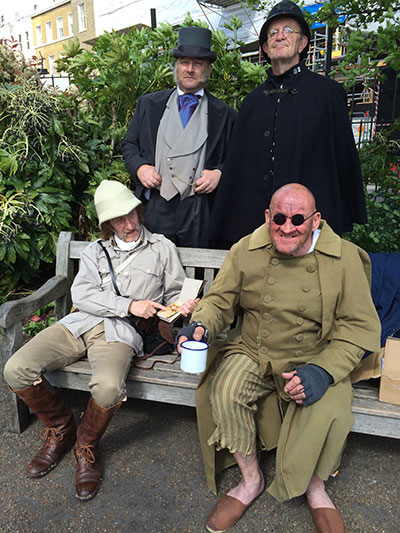 The month of May took us to London England, where we were developing an augmented reality game for the CBC and Murdoch Mysteries. We'll tell you all about that in another post! Meanwhile, back at LockQuest, teams were duking it out with the Book Club Killer. Some survived, some were murdered, and a good time was had by all.
It was a pretty even split:
Escaped: 11
N'escaped pas: 13
Average size of successful teams: 10.3 players
Average size of unsuccessful teams: 9 players
Check out the LockQuest Heroes and LockQuest Victims pages to see who escaped death and who's pushing up May flowers.
Ramping Up the Difficulty
We ran a very interesting game in May that we'd love to tell you about. One of our April players returned as an OverKeyer to watch his family play, and to celebrate his mom's birthday. In Escape the Book Club Killer, your team is divided in two groups, beginning the game in separate rooms. Eventually (hopefully), they are reunited by unlocking the door that separates them. The family had two special guests secretly visiting from the UK. The idea was to load the guests into the other room, unbeknownst to Mom, so she'd have a great birthday surprise halfway through the game.
To do this, we'd have to keep the two groups completely separate as the game began. But what was the rationale for splitting the team up into two different lobbies? Luckily, one of the family members uses a wheelchair, and LockQuest is the only wheelchair-accessible escape game in downtown Toronto! Accessibility provided the perfect cover for half the family to begin the game in the rear lobby.
The plan went off without a hitch. When the two groups were reunited, Mom had no clue the UK visitors had been playing along with her! Seeing the two halves of the family come together was an absolutely magical moment.
And then they were all horribly murdered by the Book Club Killer.
Big thanks to Matt for organizing this amazing scheme at LockQuest! If you're a past player and would like to return for free as an OverKeyer, or if you use a wheelchair and would like to play our live escape the room game, call or email LockQuest and we'll go to tremendous lengths to facilitate your fun!
Carry On My Wayward Robertson
We're overjoyed (through our tears) to announce the departure of LockQuest employee #1 and co-host extraordinaire Robbie, who has been delighting LockQuest audiences since November with his quick wit boyish charm. Anyone who had the pleasure of being hosted by Robbie at LockQuest can attest to the unbridled enthusiasm and good humour he brought to the role. Robbie has graduated from the University of Toronto's Drama and Philosophy programs to pursue his fortune thinking about acting. Farewell, Robbie. You'll be missed.
That's Robbie in the front, ducking down so that he doesn't block his teammates' faces in the photo. Always thinking of others!
Puzzled Pint May Standings
Mare did a great job running the show alongside Kim, our newest Puzzle Pint Toronto Game Control volunteer. Remember: Puzzled Pint is totally not about scores. Somehow. Here are the scores:
Team Mashup took home the (imaginary) honours in May, with a scorchingly fast time of 45 minutes. They had, on average, more brains at the table than most teams (with the exception of team "PEN15," but judging by their name, the number of brains at that table remains in doubt) But what else would you expect from a team of escape the room reviewers, really?
Puzzled Pint June: The Puzzled Pintening
Puzzled Pint has a boob tube theme tomorrow night. The location puzzle is posted on the Puzzled Pint Toronto. Have you solved it yet? (Don't worry - there are hints!) The answer will lead you straight to [redacted], where we'll be drinking and eating and puzzling well into the wee hours, or 10 o'clock, whichever comes first. (Mathematically, it'll probably be 10.)
Join us!